Amman City Tour: A Budget-Friendly Guide
Jun 6
Amman, the capital city of Jordan, is a vibrant and lively destination that attracts visitors worldwide. With its rich history, bustling markets, and delicious cuisine, Amman is a must-visit destination for those seeking an authentic Middle Eastern experience. However, travelling on a budget can be tricky, especially when exploring a city like Amman. This guide shares our top tips and recommendations for exploring the city's must-see sights and hidden gems without breaking the bank. Prepare for an unforgettable
Amman city tour
that won't cost you a fortune!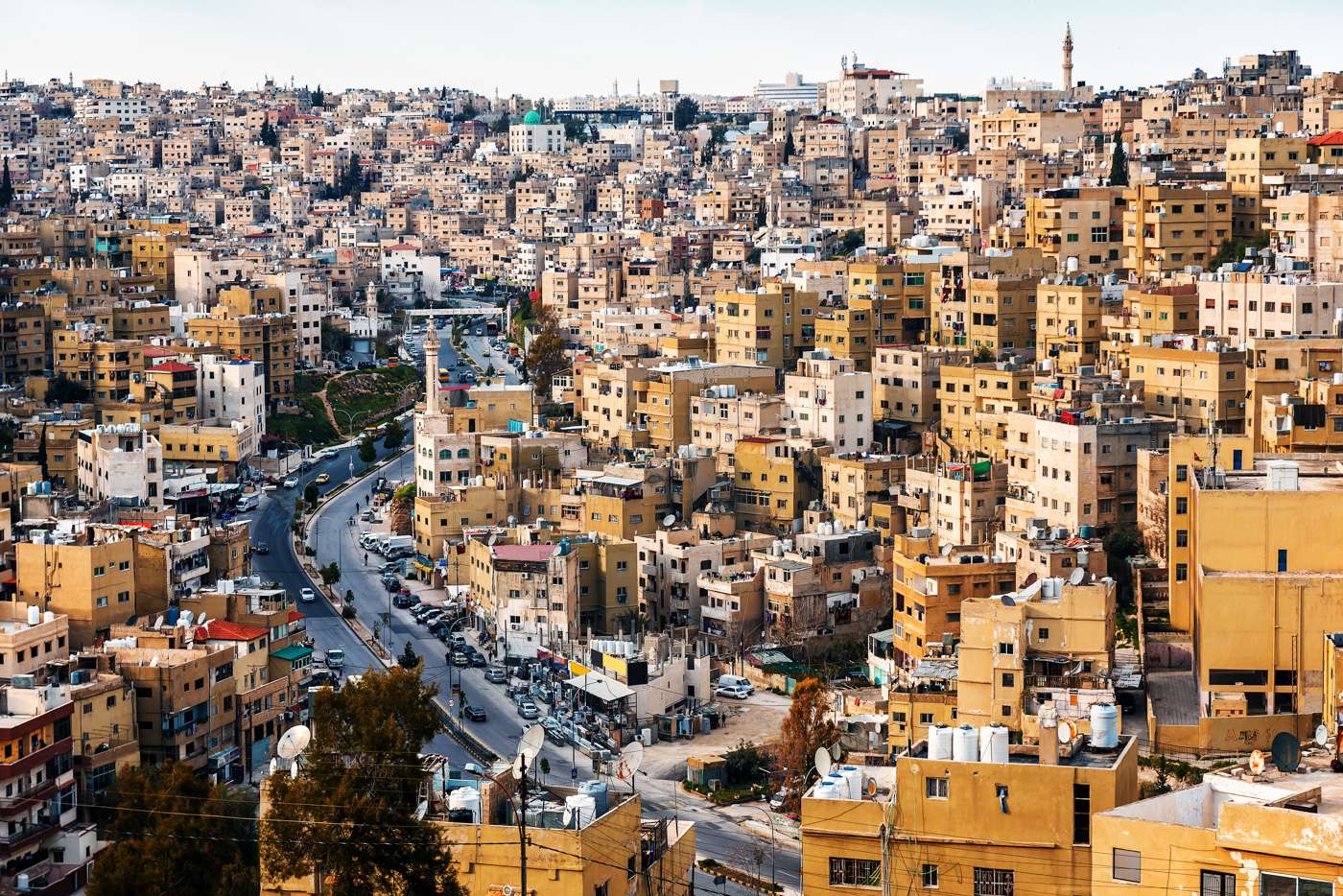 Introductory Information about Jordan and Budget Travel
Are you planning a budget-friendly trip to Jordan? Look no further than Amman, the vibrant capital city offering modern luxuries and a rich cultural heritage. Jordan offers a perfect introduction to the Middle East, providing a good balance between the traditional and contemporary aspects of the region. Exploring Amman will give you a glimpse of the country's historic ruins, such as the Amman Citadel, the Roman Temple of Hercules, and the Umayyad Palace complex. The city is also just three hours away from Petra, the world-renowned archaeological city. Use The Blonde Abroad's ultimate Amman travel guide for a memorable and exciting trip!
English is widely spoken in Amman, and communication won't be much of an issue for travellers. Arabic is the most common language, but most locals understand basic English. The Jordanian Dinar (JOD) is the local currency, and the current exchange rate is $1.14 to 1 Dinar. You can find ATMs around the city, and major hotels and restaurants accept credit cards. Jordan is a safe country to travel solo, and its modern infrastructure makes it easy to navigate. Amman enjoys a warm climate throughout the year, making it ideal for visiting any time. However, it's best to visit between March and May or September to November when the temperatures are pleasant.
Amman is divided into various neighbourhoods, each offering a unique experience. Rainbow Street, named after the old Rainbow Cinema, is a popular and modern neighbourhood with cobbled streets, cafes, and art galleries. Jabal Al-Weibdeh, a historic district, has been revamped with new restaurants, bars, and live music venues. Abdoun is home to the most expensive homes and the city's popular bars, restaurants, and nightclubs. King Hussein Park is a relaxing neighbourhood where you can play tennis, football, and basketball or visit the Children's Museum and the Royal Automobile Museum. Al-Balad, the historic centre, is home to the old citadel, the Roman Theatre, and a series of souks and markets for shopping. This area is the most conservative, and conservative clothing is advisable.
Driving in Amman can be challenging due to traffic. It's best to hire a driver or join an organized tour to get around the city easily. Uber is available in Amman, and private taxis using the meter are also better than service taxis. There are numerous day trips and tours available to explore outside the city. You can find plenty of options on The Blonde Abroad's website. 
A budget-friendly trip to Amman is achievable by researching and carefully planning your itinerary. Look out for local eateries that offer authentic Jordanian cuisine, and book accommodations in advance to save some money. You can even enjoy the city's many attractions without a fee, such as the National Gallery of Fine Arts, the King Abdullah Mosque, and the Jordan Museum. Don't miss out on the enchanting experience of an Amman city tour that'll showcase the best the city offers while keeping your budget intact.
[1]
[2]
Best Time to Visit Jordan
Planning a trip to Jordan? One of the crucial things to consider is when to visit. Jordan has four seasons, and each one offers something special. Spring, from mid-March to early June, is the perfect season to experience all the country's attractions. With mild weather and temperatures ranging from 64°F to 82°F, March is ideal for hiking and exploring Jordan's wildlife. In April, Petra and Wadi Rum are the main tourist attractions, and the weather can be pleasant, with temperatures averaging around 75°F. However, as May arrives, temperatures start to increase, and the days can become hot, but it is still a good time to visit Aqaba, Petra, and Wadi Rum. The only drawback of visiting in May is the Khamsin, the sand storms, which can affect the quality of outdoor experiences.
If you're looking for the best time to visit Jordan, it's important to know that the summer months from June to August can be excruciatingly hot. Even nights experience scorching temperatures, and outdoor experiences like camping and hiking become strenuous. On the other hand, the fall season, from September to November, is a lovely time to visit Jordan. The days are relatively cooler, and the nights can be chilly, making it comfortable for outdoor activities. During this season, the prices increase due to more tourists. The winter months, from December to February, can be cold and wet, and while the hotels and tours are cheaper, you need to be flexible with itineraries due to cancellations caused by wind, rain, or snow. However, two brighter spots can warm you up during winter - the weather is often still pleasant in Aqaba and the Dead Sea.
One of the best ways to save money and visit Jordan on a budget is to go during the off-season. The crowds thin out from late November to February, and prices tend to drop. Although Amman is considered expensive, it has plenty of free things to do. Take a walking tour, visit a mosque, people-watch on Rainbow Street or Al Balad, or exercise with Running Amman - they won't cost you a dime. If you're on a tight budget, consider staying in hostels that offer affordable options like the ones in Amman or Wadi Musa. Additionally, book locally-owned boutique hotels for lower rates than chain hotels, or negotiate the price if you book in person.
Another way to save money is to avoid fancy restaurants and buy fresh fruits, vegetables, snacks, and produce from the local markets. Consider packing a reusable cooler bag and picnic in a park or hiking trail. If you're hankering for home-cooked meals, grab some Medjool dates grown in Jordan, which travel well and are high in antioxidants and nutrients. However, alcohol in Jordan is expensive, and visitors can purchase only one litre of alcohol at duty-free shops upon arrival or within 14 days of arrival. So, if you want to save money, you may consider skipping the alcohol entirely and embracing a dry (no alcohol) vacation.
Consider the season and weather to enjoy the country's attractions fully when planning a trip to Jordan. Spring and autumn offer the best weather with mild temperatures and are the perfect times to visit Jordan. However, off-seasons like winter can help you save money with cheaper accommodations and tours. Regardless of the season, you can always find budget-friendly options like hostels, locally-owned hotels, local markets, and free activities to make the trip as affordable as possible.
[3]
[4]
Affordable Accommodation Options in Amman
Looking for affordable accommodation options in Amman? You've come to the right place. While Amman is not a budget destination, there are ways to save money on your trip. One option is to stay in budget-friendly hostels, such as Jordan Tower Hotel and Nomads Hotel. These hostels are located in the city's central area and offer a range of affordable accommodation options, from dormitories to private rooms. In addition to being budget-friendly, staying in a hostel can also be a great way to meet other budget-minded travellers and share expenses.
[5]
[6]
Free Activities in Amman
Are you planning a trip to Jordan's capital city, Amman, but worried about staying within a budget? Fear not, as you can enjoy numerous free activities in this vibrant city.
Start by exploring the downtown area of Amman, where you can mingle with locals and other travellers. Join the free daily tours from Hashemite Plaza, across from the Roman Theatre. Admire street art, visit artisan shops, and check out local markets. Strolling through the atmospheric markets of Amman is a sensory experience not to be missed. Don't miss the Souq Al Juma'a flea market on Fridays, or spend a Thursday night window-shopping and people-watching.
Take a step back in time by visiting Al Balad, a district in the valley between Jebel Lweibdeh and Jebel Amman. You can visit a preserved piece of Amman's history inside the Mahmod Pasha Hammam, built in 1904. The site was Amman's first post office in the 1920s and later a hotel. Today, it's open to the public and furnished in traditional Levantine style. Admire old photographs and get a feel for a different era.
For a cultural experience, visit the various mosques located in the city. Amman has several architecturally intriguing mosques, including the King Hussein Mosque and the blue-domed King Abdullah Mosque. Active mosques do not charge a fee to visit or view from the outside, but non-Muslims may be charged a small fee to enter the King Abdullah Mosque and on-site museum. Note that mosques may be closed to non-Muslims during prayer times and holidays.
If you're an art lover, plan a creative art crawl to get inspired by local and international artists' work. Most of the art galleries in Jebel Lweibdeh and Jebel Amman are free to enter but do double-check that they are not closed or charging a fee for a private event. Galleries worth visiting include Dar Al-Anda and Jacaranda Images.
Lastly, don't miss out on the stunning sunsets in Amman. Catch the setting sun's colours as they wash over Lweibdeh and the Citadel from the outdoor picnic tables located just before the entrance to the Citadel. Using the Visit Jordan website, you can also locate other sunset spots around Amman.
With these free activities in Amman, you can enjoy the city to the fullest without sacrificing your budget. Happy exploring! 
[7]
[8]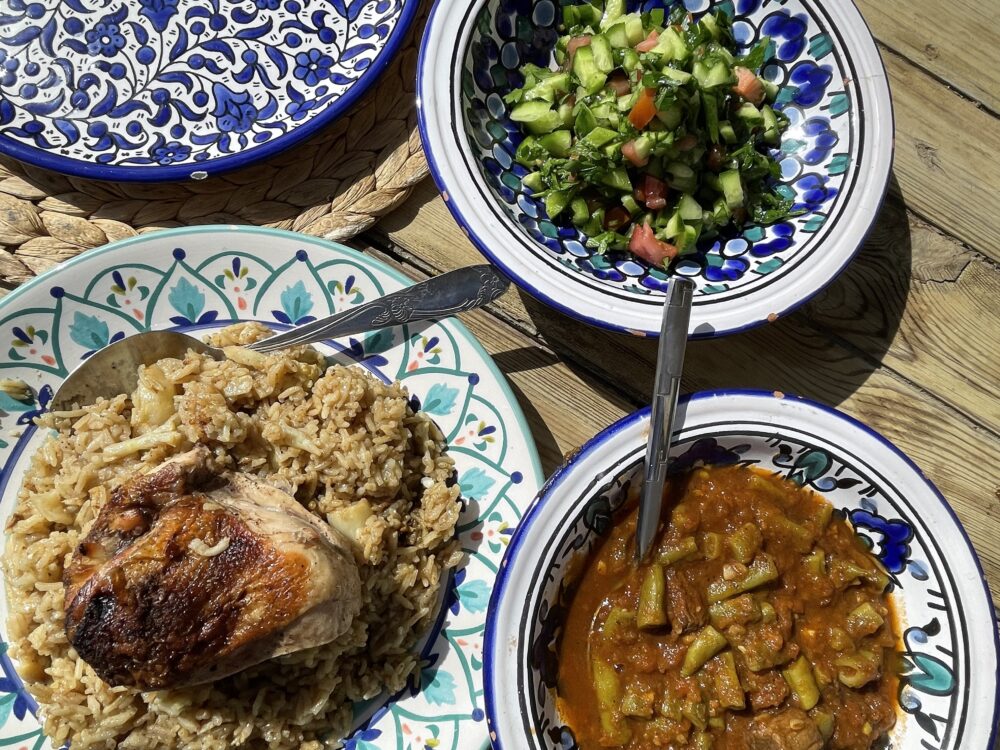 Tips for Saving Money on Food in Jordan
If you want to save money on food while travelling in Jordan, there are some things you can do. Here are some tips:
- Enjoy the Street Food in Jordan
: The street food in Jordan is not only inexpensive, but it is also delicious. You can dine cheaply in Jordan, from hot and crispy falafel to shawarma and hummus. Eating mezze-style dining is a great way to get bang for your buck. Eating many small dishes and salads makes it easy to stay full all day from just one large meal.
- Explore Souq Markets: 
Exploring the souqs (markets) is a highlight of Jordan and one of the best ways to experience the culture. From fresh fruits and vegetables to nuts and spices, stocking up on some basic ingredients to keep while travelling is easy. Prices in the souq are inexpensive and often negotiable, making it the perfect place for those looking to explore Jordan on a budget.
- Pack a Reusable Cooler Bag:
 Jordan has an abundance of fruit and vegetable markets, convenience stores, and grocery shops. If you want to save money on food, pack a reusable cooler bag. Stock up on snacks and produce or grab some fresh falafel and hummus for a few dinars, and plan to eat on the go or picnic in a park or along a hiking trail.
- Avoid Imported Foods:
Any imported food will likely cost more, so avoid familiar foods you can find at home. Instead, try local fruits and vegetables, mezze-style dining, and delicious street food.
- Drink Water:
Bottled water is inexpensive in Jordan, so drink plenty. Staying hydrated is essential, especially if you are out exploring the city or hiking in the desert.
- Share Meals:
If travelling with someone else, share meals to save money. Many restaurants serve large portions, so sharing a meal may be enough for two people.
Following these tips can save money on food while travelling in Jordan. Remember to enjoy the local cuisine and try new foods you may not have had before. Don't forget to grab some Medjool dates, grown in Jordan, which are high in antioxidants and nutrients. Enjoy your trip to Jordan on a budget while still having delicious meals!
[9]
[10]